For Ages 65 and Older
Medicare is a federal health insurance program for people of age 65 and older, people of any age with permanent kidney failure, and certain disabled people under age 65. Medicare is managed by the Centers of Medicare and Medicaid Services (CMS).
Medicare allows you to choose the way you receive your benefits. Newly eligible seniors who are drawing Social Security benefits are enrolled automatically in the Original Medicare Plan, which is the traditional payment-per-service arrangement. If you want to stay with the Original Medicare Plan, you don't have to do anyting. The basic benefits of this plan are described below.
Your copy of Medicare & You will explain the Original Medicare Plan and other Medicare health plans in detail.
It also will explain how to enroll in other health plan options, if you are interested. If you don't have a computer, your local public library or senior center may be able to help you find this information.
Medicare Part B pays 80 percent of approved charges for most covered services. You are responsible for paying a $183 deductible per calendar year and the remaining 20 percent of the Medicare approved charge. You will have topay limited additional charges if the doctor who cares for you does not accept assignment. This means the doctor does not agree to accept the Medicare approved charge for services.
The Original Medicare Plan
This is the traditional payment-per-service arrangement. Newly eligible seniors who are drawing Social Security benefits are enrolled automatically in this option. This plan includes all Medicare covered services listed above.
The Federal Government does not sell these types of policies. You should read the publication called Guide to Health Insurance for People with Medicare before you buy a supplemental policy.
For a free copy, call the Medicare hotline at 1-800-638-6833. Your state insurance department (see the Neighborhood Networks) also has information available to help you.
ElderCare Online's Insurance Coverage Channel includes several informative articles on the range of insurance coverage options.
Assistance for low-income Beneficiaries
If you have a low income and limited resources, your state may pay for your Medicare costs, including premiums, deductibles, and coinsurance. Please review detailed guidelines on the government website.
More Information
Up-to date information about Medicare is available at http://www.medicare.gov.
If you have questions about how to enroll in Medicare, call Social Security's toll-free number, 1-800-772-1213, any business day from 7:00 a.m. to 7:00 p.m. The lines are busiest early in the week and early in the month, so it is best to call at other times. People who are deaf or hard of hearing my call a toll-free TTY number, 1-800-325-0778, between 7:00 a.m and 7:00 p.m. on business days.
When you call, have your Social Security number handy.
These calls are all treated confidentially. Some calls may be monitored by a second customer representative to make sure you are receiving accurate information and courteous service.
If you have any questions about what Medicare covers,
call the Medicare carrier that processes Medicare claims in your area. The name and number are listed in Medicare & You.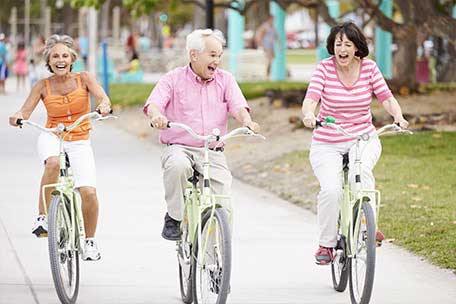 We're here to lend a hand
Talk to us today about medicare.
Contact us today
Protecting you and your family throughout all the seasons of your life